Women in Horror: Dark Arts and Crafts
Hello lovely people, out there!
In lieu of my women in horror project continuing onto the next phase, I looked over my notes and felt a pang of guilt. There are still female identifying artists I really love and would like to share before I move on to the other creative fields. There are some that lay between the arts and crafts realm who should also be mentioned here, because they do great work and often I find the art world can be an unforgiving place, which excludes people who create art, but are deemed unworthy because it's not considered fine art. Well bullocks to those ideals I say. This month dear reader, you will find a mix of creators working in the horror genre. And in the coming months I may return to the artists edition to add more as I am finding out about new female identifying horror artists every day. That's the beauty of this project: it has a lifetime to grow and expand. If you have any suggestions PLEASE let me know. I am always on the look-out to discover new creative people. Without further ado, here are my top picks for this month's dark arts and craft spotlight.
Demonic Pinfestation creates macabre enamel pins, inspired by many amazing horror movies such as The Witches, Death Becomes Her and the Love Witch. She just made a set from Bramstoker's Dracula that I really dig, but I think my favorite are her specimen jar pins. It's something I have not seen in enamel pin design before. This illusion of depth is carried beautifully and after just having my own adventures in pin creation I can say this is no small feat. There is also these killer anatomical pins, where you can actually lift up the body and underneath is the insides of a human being! Crazy awesome art. I look forward to getting a pin from her in the near future, so I can start my enamel pin collection with a bang... Or more like a bite. Find all her lovely pins HERE
Maggot Grace- aka Margaret Rolicki, Creates gore, grody gear for the theatrical metal band Gwar. If you are not familiar with them check them out on youtube. I saw them live in concert when I lived in New Jersey in the U.S. and it was such a fun show. They do have a habit of spraying the audience with goo, so bring raincoats if you don't like getting wet. It's kind of a satire on super heavy metal bands, which is awesome since I'm a huge metal fan. It's silly, full of gore and I love it. Anyway, Maggot Grace is behind all the latest gear that Gwar rocks on stage. Often the people behind the stages don't get so much recognition, but I feel she deserves all the love for creating work which immerses the people in Gwar so completely in their world and creates an amazing experience for all audience members. Check out her IG for updates on all her inspired work. She also sells some of her creations, so have a look out for some creeptastic gear. I for one wouldn't mind wearing a giant horned skull belt. Awesome personal site HERE
Kats Creepy Creations- is a new find. I have been delving deeply into the women in horror events going on this month and I found a group called Fun Dead Publications that started a dark sisters market in Salem, Massachusetts. Which just did amazingly well! Go look at their insta, there is a photo from an artist's instagram who was there and there is a line out the door! Kats Creepy Creations was one of the many talented vendors at the market. Her creations are old fashioned dolls (which to me is already creepy), which are then given a spooky, horrorful makeover. The painting she does is so creative, it completely transforms the dolls into otherworldly creatures. Anyone who loves Chucky will definitely get a kick out of her work. *Update* My apologies for leaving this out of this original post I thought I left a link in the title but I did not, so now please find her amazing creepy creations HERE! *
Creeper Crate- gets a mention, because they are super supportive of the horror community and have been actively uplifting fellow horror creatives. Plus they stay interactive with the community by engaging, answering questions and also posting advice for those having issues managing the social media minefield that can be the current state of the internet at times. They do monthly themed subscription crates, full of a variety of spooky things depending on the theme. You can also do one month purchases, so you don't have to do monthly which can be tricky at times, so it's a nice option. Definitely a way to open your mind to new and exciting horror products. Plus who doesn't like getting good stuff in the mail? You know stuff that's not bills, but awesome horror gear. Anyway, they do an amazing job of searching the net and finding the best horror themed things. As much as people love to criticise, I think people like this are super important, because they support our community with real love and passion. Find more info at their site HERE
Alright, horror lovers I'm gonna keep the blog short and sweet this month, because February be short! And I have a metric ton of painting to do. I will be revisiting this theme later in the year, maybe after I order some lovely things from them :D This by far will not be the end of women in horror in the creepy craft genre. The people that make the gear we love adorning our dark hearts and homes with need our support too, so go enjoy their work!
Until next time, stay dark.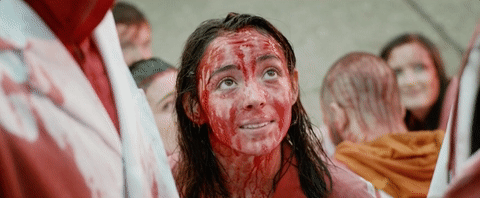 -----------------------------------------------
Who's your favorite horror indie creator? How does horror play a role in your life? Let me know, I would love to hear about it.
*This is not an affiliated post, I just love horror and sharing the joy is my own personal gift* For all you horror nerds did you know Das Gift in German means the poison? The more you know :P